Solutions for selling on your website
How you sell your goods can have a big impact on your bottom line.
Syndicate Digital offers a number of solutions to our clients, from customized sites using the Shopify framework to payment gateway carts (Paypal, ClickBank, 2Checkout), and simple order forms.
We can also custom program shopping cart systems from scratch, however this does involve considerable expense. Alternative solutions are to customize commercial shopping carts or use a payment gateway service. Continuing reading for more information.
Shopify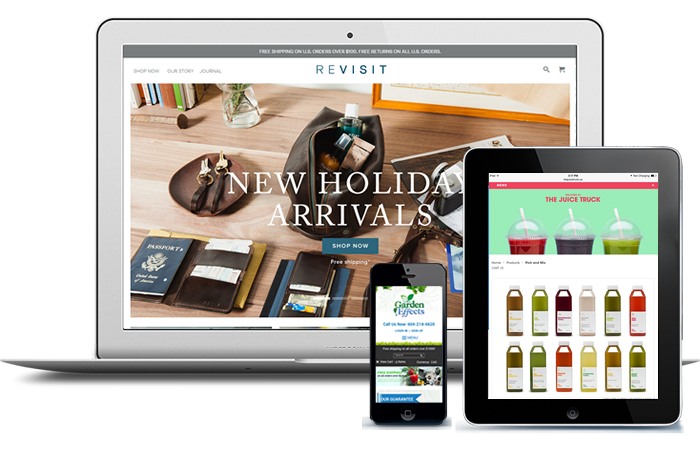 Choosing the right e-commerce platform for your business is difficult, there are so many tools out there and it can be difficult to determine the right one for you. Shopify offers a quick, turn key solution whether you are starting up a new online business or expanding an existing one.
Shopify offers one of the easiest options for building a shopping platform. It has a quick set up that is similar to creating a WordPress site. And like WordPress, when creating the look for your website you can choose from a standard theme or Syndicate Digital can build a custom theme for you.
Shopify is also recognised for its high security when it comes to processing credit cards. Unlike payment gateway carts (ie Paypal), payments are integrated within your site, meaning your customer doesn't get sent elsewhere when it comes to entering credit card details.
Customize Shopify as you continue to grow.
Shopify offers tools that help with accounting, customer service, inventory tracking, shipping, and more, leaving you with more time to concentrate on running your business.
Furthermore, did you know that 2 out of 3 purchases end up abandoned at checkout?
Often a customer will add a product to the cart but doesn't make it all the way through the purchase product. If these potential customers have provided their contact information but don't make it through the entire purchase, Shopify can be configured to store that event in your database so that you can review the abandoned checkouts to find any patterns that might suggest why orders aren't being completed, and then go ahead and try to work towards a solution.
Payment Gateway Carts
Many payment gateways come with HTML carts. PayPal, 2Checkout, and ClickBank all have integrated cart systems we can install on your website. These carts are very basic and are 100% manual. You will not be able to administer these carts without HTML and FTP knowledge. If you have a limited number of items (under 10) these carts are very fast to setup. If you have more then 10 items manual loading becomes a cumbersome chore, a dynamic system such as Miva is the better choice.
Order Forms
If you have a single item to sell and no cart is required, or custom variables must be collected then the solution for your site is an Order Form. Order forms are lightening fast and dead simple for visitors to use. All a client has to do is enter their billing information, credit card details, possibly check a few option boxes and hit SUBMIT. 90% of sales letter sites use Order Forms.